Automotive manufacture Ford and telematics provider Telogis, have announced that their exclusive partnership is set to be extended to see a new division known as Ford Telematics, that will provide Telogis powered hardware to Ford commercial vehicles, helping customers cut fuel usage, make drivers safer and reduce vehicle wear by making non-essential journeys shorter.
Ford has been working with Telogis for a few years already, having provided the back end software and hardware for the Ford Crew Chief platform – the fleet management branch of Ford – since 2011. This new expansion will see the platform enter Europe for the first time, as well as improving the current system to provide more real-time feedback of driver performance and location information.
"Ford of Europe is delivering on customer demand for visibility, cost savings and safety with Ford Telematics powered by Telogis," said Bill Frykman, manager, business and product development at Ford Motor Company. "Telogis is our trusted partner, and the success we've had with Ford customers in North America made them the only choice for Ford's European platform offering."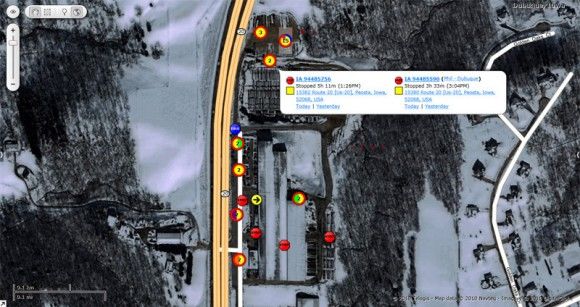 The new platform is set to be debuted at the upcoming 2014 IAA Hannover Commercial Vehicle Show in Germany, between 25th September and 2nd October. There Ford and Telogis will also be looking to sell their first package deals to European customers, as well as offering it as a dealer installed product, so should fleet managers buy any new cars from Ford, they will come pre-fitted with the optional tech if desired. Of course fitting your entire fleet with telematics hardware is the most efficient use of the technology, but even fitting it to one or two can make a difference.
"The launch of Ford Telematics powered by Telogis in Europe is an extension of what has become the industry-standard in OEM telematics in North America," said Greg Dziewit, vice president, OEM business at Telogis. "Making this offering available to Ford's European customers will help them run more efficient, cost-effective and safer fleets and transform the way they do business."
The whole idea behind the telematics system, is to provide Ford fleet managers with new and detailed information to help them make actionable decisions about their current employees and work loads. Should a job appear in a place near to a particular vehicle, that worker can be sent to the job, rather than making an estimation or having to call around to different drivers to find out their location. On top of that, if any drivers happen to be speeding around, accelerating too sharply or braking toheavily, you can offer them new training to make sure they make their driving not only safer, but also more economical. Smooth drive-offs are a big part of reducing wear on the vehicles and improving fuel economy.
For those wishing to get the first taste of the new telematics platform, or to chat to a Ford/Telogis representative about future developments, head on down to the IAA Hannover Commercial Vehicle Show on anytime during the show and visit the Ford Stand in Hall 13.
Image source: Crew Chief