Telematics For Women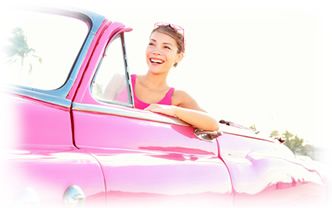 Over the years, women have put up with sarcastic comments from men about the supposed inferiority of female drivers, protected by the knowledge that their driving awarded them lower premiums than their husbands or male friends. For many years, car insurance companies rewarded women for their safer track record on the roads, while young men put up with rocketing insurance costs.
Now, thanks to an EU ruling that places gender-based pricing on insurance in the same category as other forms of unfair discrimination, women could find themselves with a significant increase in their insurance premiums.
---
Telematics is defined as any integrated use of informatics and telecommunications. When it comes to insurance, it is a policy that offers personalized insurance based on how and when you drive. It is also known as black box insurance.
Companies that use this system will place a telematics device (black box) that will be used to measure how you drive. You can prove you drive safely by having it installed in your vehicle. Instead of paying insurance premiums that are average driver based, you will pay premiums based on how conscientious and safe you drive. If you are frustrated at paying high premiums, telematics should be the solution to your insurance problems.
How it works
Insurance providers can evaluate you driving ability by tracking your car's whereabouts using GPS systems. A black box or telematics device is essentially a shallow box the size of a standard deck of cards. Once the device is fitted in your car, the following can be taken into consideration:
Your cornering
How smooth or harsh your braking is
How measured or rapid your acceleration is
How long you have been driving
Your location
On your policy, some companies may specify you avoid driving during hours that accidents are likely to occur (usually early morning or late night). Although driving during these times may affect your overall driving score, it does not mean that during those times your vehicle is not insured. Telematics insurance policies often come with benefits such as free anti-theft tracking and personalised internet based driving records.
Installation
The installation is done by your provider, and it usually takes an hour. Although the device can be placed anywhere in you car, it is frequently put beneath the bonnet or dash. The car and the provider's particular device will determine its placement in your. To prevent tampering, the placement will have to be out of sight. Tampering with the device is discouraged as this will defeat the purpose of having one installed. Secondly, in the event your car is stolen, you will not want the thief to remove it as it will act as your vehicle's tracker.
Who is it suitable for?
Telematics is suitable for both individuals and organisations. Organisations can benefit by having a platform where they can ensure their vehicles are using the routes specified. For example, a transport company may have to manage a fleet of vehicles that need to follow specified routes. The policy can be used to prevent employees from abusing company resources. The company will be informed by the provider when an employee deviates from authorised routes. It will also reduce the insurance costs of the organisation.
An individual will benefit from the policy if they happen to fall into one of the high risk groups. If you are such an individual, you are likely to be looking at high premiums when you are insuring your car. The main purpose of telematics is to assist individuals in high-risk groups such as young drivers, less frequent drivers with low annual mileage and inexperienced drivers. If you fall into any one of these groups, the only way you can pay cheaper premiums is by looking for telematics insurance. If you are a good driver, you can still get the same policy as it can potentially save you some money on your premiums.
How insurance companies use telematics information
All insurance companies that offer this type of policy will have introduced it with the main purpose of making the roads safer and helping any vehicle owner drive down the cost of car insurance.
They use the information they collect to:
Have a better overview of an accident to help recover money from the person responsible
Handle your claim after an accident
Track the location of your vehicle if it is stolen
Help you if you have an accident
Give safe drivers Bonus Miles each month
Help calculate the cost of your renewal premium
Assess your car insurance risk
Challenges faced by telematics insurance providers
The challenges faced by telematics insurance providers are similar to those of other vehicle insurance companies. The main difference is addressing the privacy concerns of their clients. All in all, it is one of the best car insurance policies you can use to reduce the cost of premiums.