Fleet tracking systems are now benefiting companies in helping them keep operating costs down by eliminating unnecessary fuel consumption, unauthorized use of vehicles and overtime expense. It also helps reduce insurance costs, while helping them optimize their resources and vehicle optimization. It helps businesses satisfy customers more by being able to tell them the exact time when they would get their deliveries. It also helps maximize the labor costs by eliminating the downtime and decreasing the incidents of tardiness. You can also get insights that would help you with financial management, route planning, maintenance management, asset utilization and improving safety.
In short, fleet tracking systems are very useful technology that has a lot of business benefits. But what is in store for fleet tracking systems in the future? What's the future for tracker telematics especially with the likes of tracker telematics Direct Line.
Strong growth for fleet management
ABI Research expects that companies all over the world offering fleet management systems will earn an aggregate of $27.61 billion in 2018, more than tripling the revenues of $9.08 billion posted in 2013. The research firm also indicates that more than 20 fleet management systems vendors have already breached the 100,000 customer mark. Some of them, such as TomTom, TrafficMaster, Telogis and Masternaut breaching the 200,000 customers mark. Three lucky companies have at least 300,000 customers: Qualcomm, Trimble and Fleetmatics.
ABI Research also predicts that fleet management systems will go beyond just trucking and delivery companies. In fact, it predicts future growth on the strength of:
Getting the truck manufacturers install these telematics on the trucks that they manufacture. Daimler, Volvo Trucks, Renault, DAF Trucks and Iveco are just some of the manufacturers that are fitting their trucks with telematics that are geared towards safety, maintenance and diagnostics.
More and more, we will see specialized services instead of the general "one size fits all" services that we have now. A good example is Navman Wireless focusing on heavy equipment, while GreenRoad and Mix Telematics focusing on buses.
More enterprises, even those that are not into trucking, will want to track their fleet. These companies will include delivery, service, government and utility fleets. As such, top players would be focusing their sights on these companies with a low cost solution on the cloud and other technologies.
More than just looking for new customers, these fleet management systems vendors could also branch out to emerging markets such as Asia, Russia and Latin America.
More business owners would become more familiar with fleet management systems and their benefits. This will make fleet tracking systems not just optional but necessary.
But aside from the growth of fleet tracking systems and its increasing use in business, what other things should you expect?
More information from telematics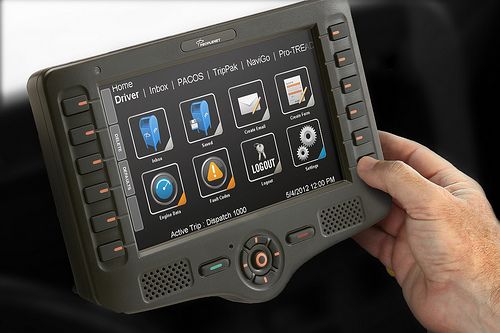 With more and more businesses tracking their fleet with telematics, we can expect a wealth of data being generated from these systems. You will be able to get information on braking, lights, battery status, temperature and even the speed at which the vehicles travel, among others. It would be possible to get a lot of information using the same systems found in a regular fleet tracker.
With all that new information and data, you can have more insights and more applications that would be making use of these data. This means that you can make better decisions that could develop your operations further, as well as improve on your fleet's safety and maintenance conditions.
Safer streets
In the future, fleet tracking systems will not only allow you to monitor where your trucks are, but it can help you be safer on the road. This is the reason why fleet management systems are expected to become big in Brazil and in the rest of Latin America. In Brazil, vehicles can be gone in a matter of seconds. You can park your car, go inside a Starbucks and before you could even order your Frappuccino, you look back at your car and it is not there. It is said that in Rio de Janeiro alone, a vehicle is stolen every 12 minutes. It is much worse in Sao Paulo where one is stolen in every three minutes.
So more than just tracking your fleet, telematics can also give you the chance to recover your vehicle should it get stolen. In fact, Ituran, a telematics firm operating in Brazil says that they have helped recover more than 21,000 vehicles in the country. That translates to approximately $600 million of property recovered. Brazil has more than 2 million cargo trucks and less than 15% of these have fleet tracking systems on board. Brazil has 13,000 cases of cargo theft every year costing businesses billions.
So if you are asking whether installing a fleet tracking system on your trucks and vehicles has demonstrable ROI, this is it.
More than that, fleet tracking systems could also have potential uses in emergency responses. In Europe, they are working on eCall, which helps motorists that get into road accidents. The system detects when the airbag is deployed or other signs that you have been in a collision. It would then call 112, Europe's version of 911, automatically so that you can ask for help. If you are unconscious, the system will just send your GPS location to the emergency response team. The system has proven to cut the emergency response times by as much as 60% in the cities and by as much as 50% in rural areas. That drastic cut in response times means that more lives were saved.
In the future, that might be expanded to include other vehicles in your fleet. As vehicle to vehicle communication becomes a reality, if one of your trucks has engine trouble, it will be able to locate the nearest truck in your fleet. Then it will be able to send a distress signal or a call.
It can also send the same call to your fleet tracking system – more like a warning so that it could rework the assigned routes to ensure that your deliveries for the day are completed even when your delivery truck is not fixed yet!
Governments will push for fleet tracking systems
In the future, fleet tracking systems might not even be an option for both individuals and businesses. Because of its proven use and benefits, there is a lot of government pressure to install telematics and fleet trackers onto vehicles. Brazil, for one, has required all cars to have tracking technology on board.
In Russia, the government is now requiring all new vehicles to have a tracking device. The tracking device will not only locate the vehicle, but will also call rescue and emergency services should you get into an accident. The same thing is happening to the European Union with its eCall system.
In China, telematics are now being required for taxis as well as public buses in the country's biggest cities. Trucks that are transporting explosives are also being tracked, as well as those transporting dangerous materials. Fleet tracking systems are also expected to show up in other vehicles in China to help manage the flow of traffic and monitor the air quality in cities, especially the overpopulated ones.
What does this mean? Fleet tracking systems are going to grow and become more mainstream, and more and more applications are going to follow suit. Further lowering in prices and more functionality out of fleet tracking systems are to be expected.
Getting bundled with other services
Admittedly, to the common person, the thought of having a system track your vehicle's whereabouts is some cause for concern. How would you feel if you knew that there were devices that logs your location and then sends it to some computer somewhere, would you not worry about your privacy? This is why there has been a lot of resistance when it comes to government-mandated tracking systems on vehicles. Privacy issues are a concern.
And this is the reason why you need to "prettify" fleet tracking systems by bundling it up with other features and services. For instance, you could get the system to also serve up weather and traffic information, and even infotainment services. Depending on your location, your system can suggest routes that have less traffic congestion but still allowing you to get every parcel picked up and delivered. This way you get done with your route with time to spare.
Pricing and technology
Technologies for fleet tracking systems are getting smaller and more affordable. This enables vendors to also give their customers a lower rate for using their hardware and associated technologies such as cloud storage and big data analytics. Soon, it will be ridiculous to charge high rates because these technologies are showing up in new cars and trucks. As we have said, major car and truck manufacturers are incorporating GPS and other sensors into their new vehicles. All you need to do is find the best platform for your needs that would allow you to access the data you want.
Further, as more and more companies also dabble into big data and move their operations to the cloud, expect that more and more businesses will be comfortable with working with the copious amounts of data that they would get from the fleet tracking systems they have. They would also have the manpower to help them make sense of all these data and churn out reports that would make the data more easily digestible.
Additionally, as they become more familiar with big data, enterprises are going to better understand that metrics and statistics are relevant and important to them, leaving out the noise that can confuse rather than help them.
Photos courtesy of InertiaCreeps, TruckPR, SBD and Scania Group.
Read a related expert opinion article: Trend is towards integrated witness cameras/telematics systems.