Google Maps isn't far off becoming as much of a household name as the search engine that began the company's fortunes, but that doesn't mean that it's possible to call it a finished product. In-fact, Google has just recently added a new feature to the mapping software, improving its traffic jam tracking by adding alerts.
While previously Google maps did have the ability to look at traffic conditions and offer the user an alternative route to avoid it, the new alerts will flash up to give people warnings ahead of time and will also break down just why they are being given a suggested diversion. These updates will come far faster than previous traffic warnings too, making it much easier for drivers that are paying attention to get ahead of the game and dodge the worst of traffic jams and accidents.
"Now when you input your destination, you'll get an explanation of upcoming traffic conditions that helps you identify the quickest route," a Google spokesperson said its official blog. "While you're on the road, Google Maps will give you a heads up if congestion lies ahead, and how long you'll be stuck in a jam. You'll also get the option to take alternate routes, including explanations for why one is recommended—whether it's the fastest or avoids an incident."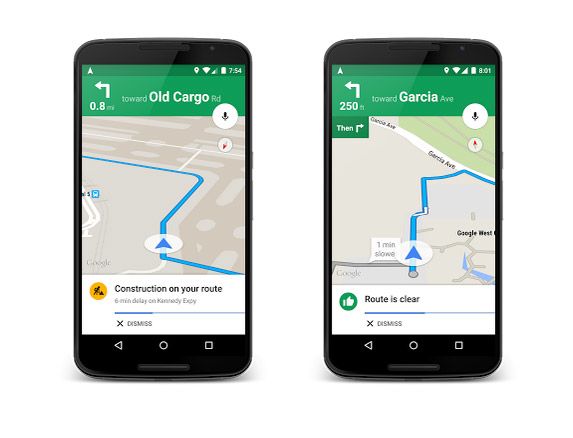 Part of the reason the new alerts will be so useful too though, is because they will be predictive as well as reactive. That means that during historically busy periods like holidays and around specific times of the year, Google will be able to issue estimations of traffic density, which may prompt the mapping system to suggest an alternative route to your destination.
Memorial Day for example, which takes place today, 25th May, sees most Americans heading to several destinations: the beach, cemetery, restaurants and furniture stores, as well as filling up on petrol. While drivers may still wish to visit those locations today, it's worth bearing in mind that the roads to them by be a bit more crowded than usual.
Do you guys make much use of Google maps? Or do you still have an archaic, standalone sat-nav unit?