European telematics manufacturer and developer, Masternaut, has announced that it has developed a new system, that will bring in its words, "transformational benefits," for its customers. It's called the MT400 telematics hub and it brings previously unheard of connectivity, better over the air device management and much more versatile software applications to the table.
Designed in-house by the Masternaut research and development division, the Mt400 is capable of drawing a lot of data from a vehicle, including real time, accurate, odometer, fuel and diagnostics. This will of course mean it needs to be plugged into the car's diagnostics port, but this gives bountiful information about how the person is driving and the current condition of the car. This will lead to better risk profiling for insurers, which can then look at more than just sharp acceleration and breaking in order to judge how safe a driver is on the road.
If there's other telematics or sensory equipment in the vehicle already, as is happening with some of the recent high end cars being launched by many manufacturers, it's not a problem as the MT400 can integrate with all sorts, including: tachographs, temperature control units, salt dispenser units, weighing sensors and other on-board vehicle equipment. It can even draw on these systems to improve its own breakdown on driving habits and the condition of the vehicle.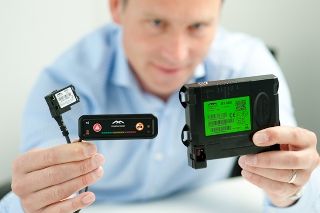 As with many telematics systems, it will also integrate with smartphones, tablets and any other laptops, offering extended connectivity and processing power via a customer's handset. Data can also be output to these devices, offering real time feedback on driving, tracking, GPS and plenty of other functions. The MT400 is looking to be a truly next-gen telematics system.
Understandably with a product launch like this, Alex Rothwell, Masternaut's CTO was front and centre this morning, saying: 'The MT400 transforms in-vehicle solutions and is a step-change from current "black-box" technology. It is the culmination of substantial R&D investment, building on Masternaut's patents and know-how from 10 years designing market leading telematics devices.'
Masternaut's chairman and CEO, Martin Hiscox, also nabbed a bit of the limelight by saying: 'To ensure our customers get the most out of Connect, they need leading hardware which is not only versatile enough to support our full suite of modular applications, but which delivers business intelligence based solely on absolute vehicle data. The introduction of the MT-400 technology as standard provides even greater accuracy for our customers, enabling them to get even more return on their telematics investment.'
About Masternaut
Masternaut is a pan-European telematics company with a specialisation in managing fleets and workforces through integrated technology systems. It's helping to pioneer machine to machine growth and the internet of things, and has bolstered its own development and management teams to over 500 strong in the past few years. It's one of the fastest growing UK tech firms and recently merged with AIM-listed Cybit to compound its growth.