TomTom is today celebrating quite a big milestone, as its telematics service, WEBFLEET, officially turns 15 today, making it one of the world's longest running telematics packages. Of course it's a little different today than when it was when launched back in 1999, but it's testament to the effectiveness and customer satisfaction that WEBFLEET delivers that it's going so strong today.
When it was first launched back at the end of the 20th century, WEBFLEET became one of the first web-based telematics interfaces. While internet connections were far from what they are today, early adopters of broadband internet were able to draw some benefit from being able to track their vehicles. However back then the process wasn't quite so nuanced, as very specific and often expensive hardware had to be fitted to vehicles after manufacture in order to make the tracking possible. There were also far less features for the fleet managers, who couldn't send messages back and forth and couldn't detect some of the more complicated driving stats that can help a business save money.
Despite that though, as the technology grew, advanced and improved, it ended up in all manner of vehicles. In its announcement, TomTom explained that WEBFLEET has been used in everything from meal delivery cars, logistics management, car sharing schemes, breakdown assistance and much more. It's also been used to track things like mobile toilets and space shuttles, showing its true versatility.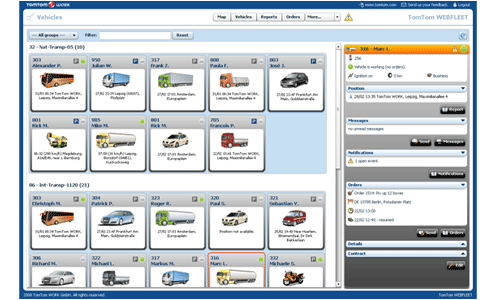 It also helps save companies and individuals a lot of money, something TomTom was keen to point out:
"Our client experience shows us that WEBFLEET today saves businesses around the world an estimated €80 million a month and 11.5 million litres of fuel every day," said Thomas Schmidt, Managing Director, TomTom Telematics.
"The innovative approach to fleet management established 15 years ago remains as strong today and WEBFLEET continues to evolve, providing customers with ever smarter ways to achieve their business goals."
One of the biggest advances for WEBFLEET came in 2009, when TomTom added dashboard functionality, giving businesses a single place to go where all of their data was collected and collated into easily readable tables, maps and statistics. This was further expanded in 2010, when TomTom launched its ecoPLUS package. For subscribers, this gave them detailed break downs of all of their vehicles' fuel consumption and driver habits in one place, letting enterprises decide if changing or servicing vehicles might benefit their bottom line. On top of that, driver training could also be suggested for those with too heavy a foot.
WEBFLEET has continued to evolve over the past couple of years, gaining ISO 27001 certification for protecting user data behind multiple layers of security, as well as beginning to accept third party applications to help further augment the WEBFLET platform. Thanks to TomTom's developer provided API too, other companies can incorporate WEBFLEET into their offerings, making it one of the most versatile and easily acceptable telematics tool in the world.