The virtual safety car was a big topic in Formula 1 last year. Following the crash by Jules Bianchi at the Japanese Grand Prix that saw him spend much of the rest of the year in a coma, the FIA and other groups looked for a new solution to slow everyone down on yellow flag laps, as clearly, not wanting to give anyone else an advantaged was leading to drivers barely easing off at all. The solution they ultimately settled on was a virtual safety car and while it may not be perfect, it received a lot of praise for doing what it was supposed to do. However, until today the question on how it would be implemented in the 2015 season remained, but the FIA has now published its guidelines for it.
Debuted as part of the official rules for the 2015 season in its entirety, the Virtual Safety Car (VSC) will only come into play when "double waved yellow flags are needed on any section of track and competitors or officials may be in danger, but the circumstances are not such as to warrant use of the safety car itself."
Essentially, as we expected and in pretty much the situation where Jules Bianchi was injured. When drivers are required to slow down for safety reasons, perhaps during when a fellow racer is being recovered, but not so much that the safety car itself is required. This was a big part of the reason for the VSC in the first place, as while American sports make much more liberal use of the safety car, European regulators and fans of the sport are far less keen to see it see increased usage in Formula 1.
To let drivers know that the VSC has been enabled, the marshalling lights around the track will display the letters, "VSC." As AutoSport explains, d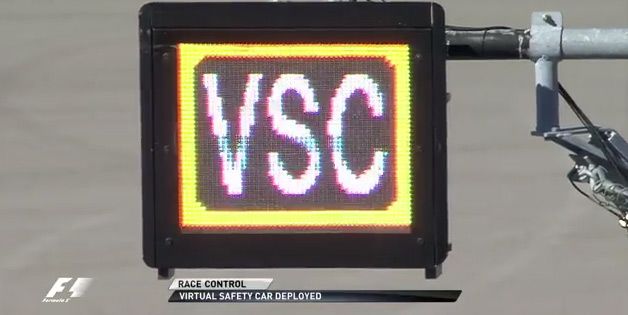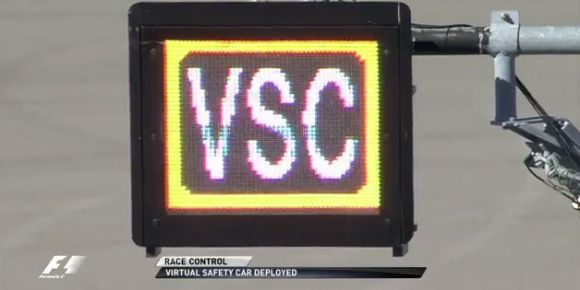 rivers will not be allowed to pit, unless it's specifically to change tyres and they will have to keep to a minimum time, throughout the lap or face penalties. That way, their speed should be reduced enough that it should keep them safe.
Drivers will be given a 10-15 second warning when the VSC period is coming to an end, with the marshall lights turning to green around the track when the VSC restrictions have been lifted. After 30 seconds, they will be switched off to avoid distraction.
Several VSC systems were tried prior to this season, with attempts to have drivers slow down on certain sections of the track scrapped, after it was found that they risked an accident by spending a lot of time checking to make sure they weren't going over a certain speed. Similarly, plans for a single VSC lap were dropped, opting instead for a more marshall controlled system.
Other rules ditched for the 2015 season were double points for final race and the need for a standing start after a safety car was used.