Volvo has become the latest car manufacture to release a new vehicle with a telematics system built in, this one coming from WirelessCar. Volvo is pushing its new system in China first and is calling it OnCall, offering "information and concierge" services to customers, with a direct line to a Volvo representative at all times. The idea is for them to take the in-car experience to a whole new level, offering the ability to make bookings, give guidance, information or advice at any time, just by calling them.
This is certainly a step up from automated services offered by other manufacturers, though that might be the reason China is being targeted first, since its labour market is criminally underpaid and is therefore much more numerous than elsewhere.
On top of the concierge service though, as you would expect there's a lot of the usual telematics features present in Volvo On Call. It also builds in safety and security features, such as emergency-call, remote door unlock, theft notifications, stoleb vehicle tracking and immobilization should you so need it. Hopefully not, but it's always nice to know the options are there.
The WirelessCar system will also hook up with a driver's smartphone, to offer added functionality, with the system working with all smartphone types, be they Android, iOS or Windows powered. This allows for the simple integration of certain apps, music listening services, video calls, streetview map tracking and much more.
However Volvo's own applications will give you some much more inter-connected function with your vehicle. For example, you'll be able to find it in a busy car park thanks to "honk and flash," which will see your car do just that get your attention, or find your nearest Volvo dealer to allow for a quick repair if needed. You'll also be able to turn the engine on remotely, letting you get the heaters or air-conditioning going in the corresponding season without having to step outside first.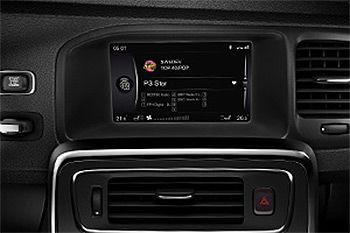 Diesel engined versions of Volvo's vehicles, even come with an engine heater which uses less fuel than the remote-engine start, so can warm up your engine and the interior for less fuel, making you and the environment a winner.
The WirelessCar system will also turn your vehicle into a WiFi hotspot if you're in a 3G area, meaning you don't have to hammer through your data package for your smartphone while on the move.
On top of all of this though, the telematics hardware will also track your distance driven, GPS location and driving habits, giving you a lot of feedback on your driving skills and potentially letting you feed it through to your insurer if you want discounts on your premium (if you're a good driver).
"This is yet another customer for WirelessCar in China, which will enable us to penetrate the Chinese market even further. We are grateful and exited to be a part of this amazing opportunity on the largest automotive market in the world," said Martin Rosell, Managing Director, WirelessCar (via WSJ).
Both WirelessCar and Volvo expect the system to be available in the US by the end of the year and potentially the rest of the world shortly after, but it plans to release it in China first.