Drivers and cyclists have always had a bit of a tenuous relationship. They compete for space in certain parts of the roadways and if either isn't paying attention, it can make it doubly dangerous when there isn't a lot of room to manoeuvre. Volvo thinks it's found a solution to this age old problem however, by connecting drivers and cyclists via a specialised network that allows each to see just where the others are at all times.
This new technology was developed by Volvo Personvagnar AB, in collaboration with sports gear maker POC Sweden AB and Telefonaktiebolaget L. M. Ericsson and will be showcased for the first time at CES in Las Vegas early next year. It's essentially an interactive collaboration between applications, allowing popular cycling apps that track time, distance, location etc, to broadcast that information to drivers and vice versa. This way, each type of road user can see just where the others are at all times. You would be able to see for example, if a cyclists was about to come out of a road up ahead, or if a car is coming around a blind corner particularly tightly.
There's also a measure of automation about the software though. Much like Volvo's pedestrian spotting systems, this new application will send a warning to cyclists or drivers if they're getting too close to one another and if there is the potential for an accident, other functions could be enabled, such as contacting emergency services.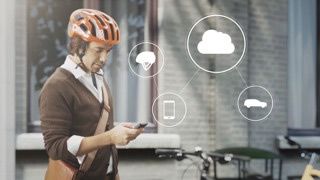 For now though Volvo is pushing the warning system, which for the car driver appears on a heads up display on the windscreen, while the cyclist would see a little warning light on their helmet.
"The partnership between Volvo Cars, POC and Ericsson is an important milestone in investigating the next steps towards Volvo Car's vision to build cars that will not crash" Volvo VP and Group CIO Klas Bendrik said in a statement. "By exploring cloud-based safety systems, we are now getting ever closer to eliminating the remaining blind spots between cars and cyclists and by that avoid collisions."
Per Borgklint of Ericcson added (via Silicon Angle): "our work with Volvo Cars to explore the connected society, protecting the millions of cyclists on the road is just the latest example of innovation that can change the world."
He has a fair point too. Upwards of 50,000 cyclists in the US are killed and injured every year.
All of this though is designed to feed into Volvo's 2020 promise, which is that by that year, no person will be killed while in, or around its new vehicles. That's a very tall order to meet, but if it is able to do so, Volvo could very well position itself at the forefront of automated car development, which is going to need all sorts of safety mechanisms to become truly versatile on modern roads.