Airplane black boxes
Recent aviation disasters such as the disappearance of Malaysia Airlines Flight 370 and the Indonesia AirAsia Flight 8501 crash highlight the importance of black boxes on airplanes. These black boxes provide important information that, during most times, no other devices or person could provide. These black boxes tell the story of just what occurred during the flight and what happened just before the plane crashed.
These black boxes, or formally known as flight data recorders, record the instructions that are sent to the airplane's electronic systems, including performance parameters, conversation in the cockpit, radio communications, ambient sounds, and other information.
The Cockpit Voice Recorder records every sound that is made inside the cockpit, including the conversations of the pilots and the crew, aural alarms, switch activations, the radio transmission, control movement, airflow noise, and even engine noise. Today's Cockpit Voice Recorder can retain up to the last two hours of recording, operating on a continuous loop. All of these recordings are stored in memory chips, whereas older systems made use of magnetic tapes.
Sounds low tech? It is, but considering that an estimated eight out of ten plane crashes are directly or indirectly caused by human error, these recordings can really provide a lot of valuable insights into any accident investigation.
The Flight Data Recorder, on the other hand, records the different parameters of the flight. Today's Flight Data Recorder can easily record up to 25 hours of data and that can include more than a thousand different parameters.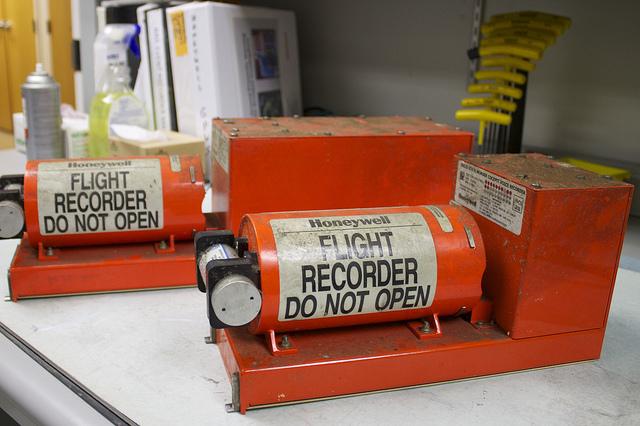 The Asiana Airlines Flight 214 recorders. The said plane crashed on final landing in San Francisco International Airport on July 6, 2013. Out of the 307 passengers and crew on-board the plane, three died. Photo courtesy of the United State's National Transportation Safety Board.
But this was not always the case, however. Some Flight Data Recorders record significantly fewer parameters than most, especially the older ones. Basically, however, there are five basic classifications of parameters that are required to be recorded, and these are:
microphone keying
indicated airspeed
pressure altitude
magnetic heading
normal acceleration
Microphone keying is the time wherein the crew made radio transmissions during the flight. This data is checked against the voice recordings that the Cockpit Voice Recorder makes.
The Flight Data Recorder might be small at only 16 cm by 12.7 cm by 50 cm, but because of the wealth of data it stores, it can provide accident investigators a whole deal of information about what happened during a crash and the various events that led to the crash. All of these data are also stored on memory chips.
Another component of the black box is the underwater location beacon. The beacon is battery powered and is activated once the box goes under water. When submerged in water, the beacon will start emitting an acoustic signal at 37.5 kilohertz and a receiver may pick up this frequency not further than 20,000 feet. The beacon may be activated in fresh or salt water, and can emit signals for up to 30 days.
A plane's black box can act like an eyewitness to the events leading to the crash, giving investigators valuable insights as to what really happened, and perhaps give them explanations as to why an accident occurs. These black boxes has the potential to point out safety lapses, which could help place liability to those who are responsible, or absolve people, groups and the airline from liability. Most importantly, it can help prevent similar accidents from happening in the future.
Car black boxes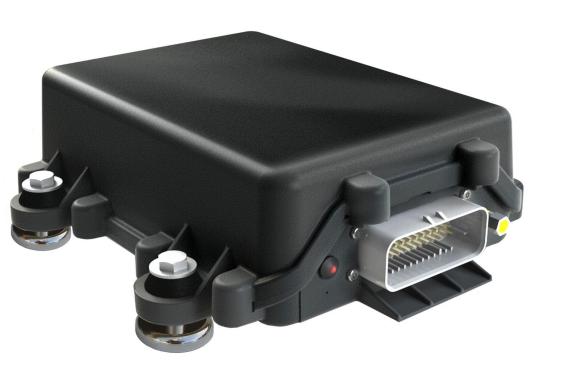 This is the Zonar V3R "car black box". Compared to the airplane black box, this one is sleeker and lighter. It can withstand tough conditions whilst giving important vehicle operating information. Photo courtesy of TruckPR.
You might not know it but the car that you drive might have its own version of the black box. If you bought your car in recent years, you will have an event data recorder on board. If you were not aware of this, it is because the device itself is installed out of sight. Car manufacturers are also not very clear as to what types of data are being recorded.
Until recently, black boxes in cars have been largely a manufacturer's prerogative. In recent years, there have been moves to make event data recorders compulsory for all new cars that come out in the market. Of course, there are several oppositions to this move. One of the biggest reasons is privacy, and how to secure your car. There are even talks of hacking a car using these black boxes.
Another thing about car black boxes is that most car manufacturers do not reveal what these black boxes do and what they record. And each car manufacturer has a different system from other car manufacturers. So, one car brand might be recording a different set of data from another car brand.
Moreover, car manufacturers also combine it with other technologies, such as diagnostics. Further, discussions in the market about black boxes have been closely tied to usage-based insurance.
A car black box has a GPS unit that records the time of day and the places you drive to. It also comes with motion sensors and detectors to records how you are driving your car and whether you are driving on bumpy or smooth roads. It will also check if you brake rapidly or accelerate quickly. A car's black box typically writes in a loop, meaning, it makes use of the same data storage, overwriting information along the way. It will only stop looping when you get into a crash.
In case of a crash, the black box will generate a crash record that will consist of about five seconds of data. The record will log your vehicle speed, engine speed, throttle position, brake application, and even how hard the crash force was. These information will encompass how your car was operated immediately before and during a crash. Over the years, event data recorders have come to be equipped with diagnostics as well, which allows it to record your car's performance issues making it easier for mechanics to see what's wrong with your vehicle. It also became the foundation for data recovery technology.
The car black box records different parameters. Most of these come from the sensors that report to the Electronic Control Modules. The Electronic Control Modules are the ones responsible for activating your antilock brake system, airbags, climate control management modules, cruise control, and a host of other features in your car. In general, most of the data you see in a crash report are from the Powertrain Control Module and the Airbag Control Module.
The National Highway Traffic Safety Administration mandates that all event data recorders provide the following information:
The change in velocity in a forward crash

The cumulative change in speed and the duration of the crash

Speed of the vehicle

Acceleration

Status of the service brake

The number of power cycles applied at the time of the crash and prior to EDR downloading

Safety belt status of the driver

Whether the airbag was working (including whether it was working a second before the crash, whether it deployed for both the driver and passenger side)

The number of crashes within that five seconds, as well as the time between two recorded events

An indicator that the EDR completely recorded the events
Comparison between an airplane black box and a car black box
A brief comparison of the technologies you find on an airplane black box and a car black box follows:
| | | |
| --- | --- | --- |
| | Airplane Black Box | Car Black Box |
| GPS | | |
| Motion sensors | | |
| Throttle position sensor, vehicle speed sensor, and other sensors | | |
| Sound recorders | | |
| Locator beacon | | |
| Industry standard | | |
| Government standard | | |
| Smartphone compatible | | |
| Standalone device | | |
| Records technical malfunction | | |
| Records important flight / driving parameters | | |
| Transmits data in real time | | |
Take a look at the last line. Some event data recorders are able to send crash logs from the car to a server or a mobile app. This is particularly true for those car black boxes that are also used for usage-based insurance.
Airplane black boxes do not have such technology. An aircraft's black box is designed to withstand bad crashes and highly intense impacts. It can also survive high temperatures and very cold conditions. And that is because the black box retains all the data that the Cockpit Voice Recorder and the Flight Data Recorder collect.
Recent aviation disasters, however, have again pointed out one of the things that are fundamentally wrong with aircraft black boxes. In the event of a crash, you have to find it first before you could get access to the data. If the plane goes missing and no ones finds it, or is submerged in really deep waters where it's impossible to go there, then all that data would also be gone.
In addition to a locator beacon, there are now proposal to also include a system to send the data that the plane's black box collects, perhaps in real time, to help address this problem.